Advance your IT Career Today with Microsoft's
MCSA 2003 / 2008 Certifications!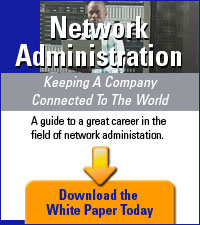 The Microsoft Certified Systems Engineer (MCSA) certification continues to be the premier certification for professionals who analyze the business requirements and design and implement the infrastructure for business solutions based on the Microsoft Windows Client systems and Microsoft Windows Server System. The strength of Windows Server in the market today indicates that demand for related IT expertise will continue for years to come.
A Microsoft Certified Systems Engineer (MCSA) designs and implements an infrastructure solution that is based on the Windows operating system and Windows Server System software. Implementation responsibilities include installing, configuring, and troubleshooting network systems. Earning the MCSA certification proves your expertise in designing and implementation of the Microsoft Windows Server platform.
As IT job roles continue to evolve with technology, Microsoft designed the Windows Server 2008 Certification or Microsoft Certified IT Professional: Enterprise Administrator (commonly known as the MCSA 2008), to validate an IT professional's knowledge of the Windows Server 2008 environment.
The following chart illustrates how to achieve the MCSA 2003 and MCSA 2008 certifications:
| | |
| --- | --- |
| Windows Server 2003 | Windows Server 2008 |
| Exam 70-290: Managing and Maintaining a Windows Server Environment | *Exam 70-640: TS: Windows Server 2008 Active Directory, Configuring |
| Exam 70-291: Implementing, Managing, and Maintaining a Server Network Infrastructure | *Exam 70-642: TS: Windows Server 2008 Network Infrastructure, Configuring |
| Exam 70-299: Implementing and Administering Security in a Microsoft Windows Server Network | |
| Exam 70-620: TS: Windows Vista, Configuring | |
*Exam 70-648 is an upgrade exam that is a composite of two stand-alone exams: 70-640 and 70-642.

The MCSA Certification exams are given at your local Prometric testing centers.