Microsoft MCSA 2003 / 2008 Certification Online Courses

CBT Campus boasts the most beneficial online certification training on the market. With online training, you have the flexibility to study on your schedule, and with the speed and reliability of the internet, CBT Campus' Microsoft MCSA training course is accessible anywhere you have an internet connection. Convenience finally costs less with CBT Campus – the most affordable online training solution today. CBT Campus is also a Microsoft Certified Partner.
The unique design of CBT Campus' Microsoft MCSA certification course incorporates a proven four-step learning process: presentation, demonstration, guidance and independent practice. This four-step proven learning model for CBT Campus' Microsoft MCSA training course ensures the greatest level of retention to prepare you for your Microsoft MCSA certification exam.
Click images to enlarge
The presentation portion of the Microsoft MCSA certification online course teaches you the concepts necessary to effectively utilize a specific application. Clearly written text and high-quality graphics communicate complex ideas simply and effectively. Each Microsoft MCSA certification online course contains practice questions which thoroughly prepare you for any applicable certification exams.
The demonstration portion of the Microsoft MCSA certification online course illustrates how these concepts relate to everyday application.
The guidance phase of the Microsoft MCSA certification online course provides instruction on making the application learned a useful and efficient tool in the workplace. The Microsoft MCSA training course includes step-by-step demonstrations of specific tasks to make sure you can effectively perform the task on your own.
The independent practice portion gives you hands-on experience using the application. Task-based exercises allow you to practice what you learn in a fully-functional, simulated environment. The simulation authentically reconstructs the vendor's environment and continually supplies positive feedback. You'll learn how to best implement and utilize your skills under specific circumstances.

CBT Campus also offers online mentoring for over 100 current major certification exams, including Microsoft MCSA, for IT professionals and end-users alike. CBT Campus' mentors have a minimum of 20 certifications each and are available 24/7*.

* Available for most IT courses.
CBT Campus' online mentoring services are unparalleled in the online training industry. Expert Mentors are available online to provide support, guidance and encouragement to learners. The mentoring team holds over 1,000 certifications and accreditations.
Integrated Delivery
Chat, "Email My Mentor" and daily certification emails are available as part of the standard mentoring offering on CBT Campus' Learning platform for the Microsoft MCSA training courses. Chat and email can be accessed directly from within relevant online courses, through the Learning catalog and as an integrated part of search results using the powerful Search-and-Learn® engine.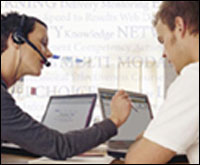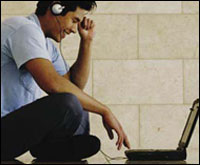 Mentoring Services
Live Chat
Learners may engage mentors in real-time, online chats to ask a question, confirm understanding of a new topic or request additional information on a difficult subject.
Email My Mentor
The Email My Mentor service enables learners to seek detailed guidance from mentors on in-depth queries. The mentors guarantee a six-hour response time via email ensuring that learners receive answers to complex questions when they need them.
Daily Certification Email
Learners may sign up for daily email from our mentors to keep on track with certification preparation. Daily email questions are synchronized with learners' expected progress through certification subjects and help learners assess and refresh their knowledge and stay motivated to achieve their goals.
Mentoring Coverage
CBT Campus' mentoring services offer support for over 100 current major professional certification exams.
For more information and a FREE demo of our Microsoft MCSA online training course, simply fill out the form below.